Female Genital System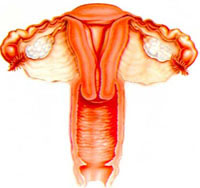 The female genital organs are responsible for the production of eggs, and after their fertilization by spermatozoa, they offer conditions for development until the birth of the new being.

The female genitals consist of a group of internal organs and a group of external organs.
The Internal Organs are inside the pelvis and consist of the Ovaries, Fallopian tubes or oviducts , Uterus and Vagina .
The External Organs are superficial to the urogenital diaphragm and lie below the pubic arch. They comprise the Mount of Pubis , the Labia Major and Minor of the pudendal, the Clitoris , the Bulb of the Vestibule and the Major Vestibular Glands . These structures form the vulva or female pudendum. The mammary glands are also considered part of the female genital system.

FEMALE GENITAL ORGANS - GLOBAL SIDE VIEW
Source: NETTER, Frank H.. Atlas of Human Anatomy. 2nd edition Porto Alegre: Artmed, 2000.