Ulna
It is the medial bone of the forearm. It articulates proximally with the humerus and radius and distally only with the radius. It is a long bone that has two epiphyses and a diaphysis.
Proximal Epiphysis
Olecranon – Large eminence that forms the tip of the elbow
Trochlear Notch – Large depression formed by the olecranon and coronoid process and serves for articulation with the trochlea of the humerus
Coronoid Process – Projects from the anterior and proximal part of the body of the ulna
Radial Notch – Articulates with the radial head
Ulnar tuberosity
Distal Epiphysis
Head of Ulna – Rounded articular eminence located laterally
Styloid Process – Located more medially and is more salient (non-articular)
diaphysis
It has three edges and three faces.

edges:

Interosseous Edge

Front Edge

Dorsal Edge

faces:

Front Face

Dorsal Face

Medial Face



The Ulna articulates with two bones: the Humerus and the Radius.
ULNA - ANTERIOR, POSTERIOR AND SIDE VIEWS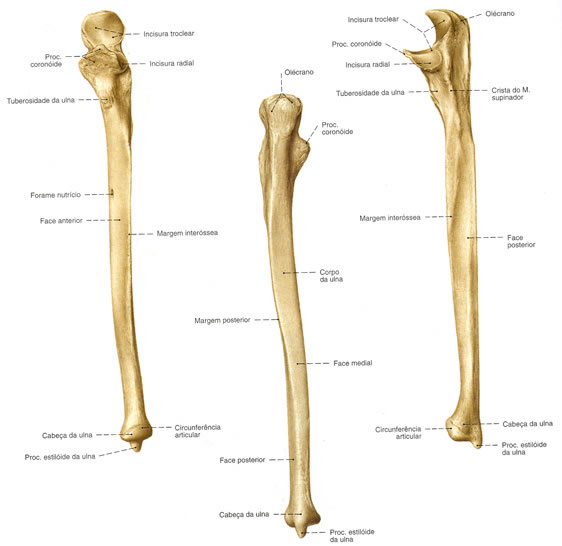 Source: SOBOTTA, Johannes. Atlas of Human Anatomy. 21 ed. Rio de Janeiro: Guanabara Koogan, 2000.